More than 30 years of experience
Zoover Award 'Best Camping Holiday Company'!
Own representatives at all campsites
Most popular campings
Bijela Uvala
Croatia - Istria - Poreč
In total 3 pool complexes with children's pools
Cosy restaurants and bars at the campsite
Tourist train to the charming village of Porec
Pra'delle Torri
Italy - Adriatic coast - Caorle
Enormous water paradise of over 4,000 m²
A mini amusement park with various attractions
Catch the campsite train to the seaside resort of Caorle
Park Albatros
Italy - Tuscany - San Vincenzo
3 large shallow lagoon pools with a wide slide
Accommodations on beautiful pitches
Make sure you visit friendly San Vincenzo
The Zoover Award 2019
Best Camping Holiday Company! For the fifth time we, Roan Camping Holidays, have been awarded this prestigious travel industry trophy. In the past we won this award in 2013, 2014, 2015 and 2018. Thanks you so much happy Roan guests for voting for us!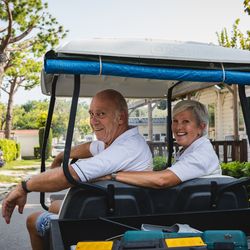 Making sure our guests have a great holiday!
We have been working as Roan Camping Staff Members for several years now and we enjoy doing that! The day starts with checking in arriving Roan guests and parting with those who are at the end of their stay. We welcome the new arrivals with a drink and say goodbye to the ones that are leaving us. When guests express they had a great holiday and return home satisfied, that is when we are happy. An excellent start of our day!