Roan Luxury Camping Holidays | 7/19/18 |
A swimming pool with fun slides cannot be missing on your summer holiday! Nowadays, there are many water slides, in all shapes and sizes. Many of the campsites that we offer, have big waterparks which have spectacular slides. Besides this, there are a few Roan campsite that are located close to an aqua park which are definitely worth visiting. In this blogpost we have made a list of the biggest and most spectacular water slides on and near our campsites. This way you will know where to go for hours of fun!
1. The Stukas Tree slide at Caneva World
You will find this waterslide at the aqua park Caneva World which is located by Lake Garda. You can easily reach this aqua park from our campsites by Lake Garda. You definitely need a lot of courage to go down this slide. You will enter a booth at a high altitude. The floor will fall away and you will slide down at a tremendous speed. This slide has a height of no less than 32 meters.
(Source: Canevaworld.it)

2. The Extreme River slide at aquafan
Aqua park Aquafan is easy to get to from one of our campsites on the south of the Adrian Coast. Here you will find a crazy river with a length of 200 meter and an Extreme River which is a bowl-shaped slide where you will go down at a speed of 70 km/h! Do you dare to go down these slides?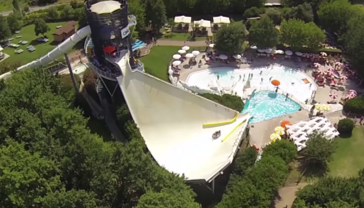 3. The Aqualoop slide at Aqua Ardèche
When you go on holiday to one of our campsites in the Ardèche, you can spend a day at Aqua Ardèche. Here you will find various spectacular water slides. For one, you can race against the whole family on the Anaconda slides and find out who is the first to be on the ground again. The Turbo Cyclone is another very exciting slide. You will race down in a tube and end up in a big whirlpool.

The eye catcher of the park would be the Aqualoop slide. This slide is perfect for real thrill seekers. After you have gone up all of the stairs, you will enter an enclosed cage. Now you just have to wait until the floor disappears under your feet and you go down at breakneck speed. The most exciting part is that after the steep descent, you will go upwards in a curve.This is a kind of curvy loop. Going down this slide just once, will not suffice!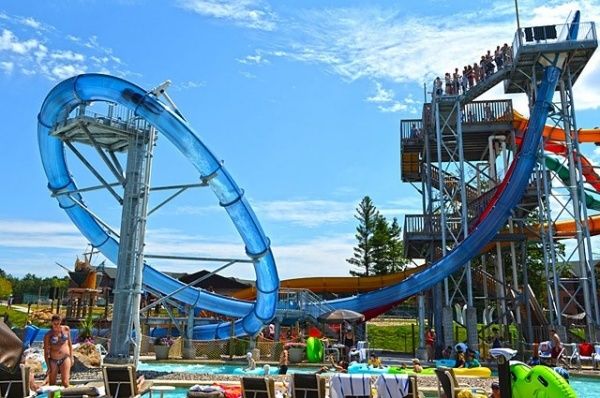 (Source: campinglepommier.com)
4. Race against each other on the Crazy Hills slide at Istralandia
It might not be the most thrilling slide, but it is one you will definitely experience much fun on. You can find the Crazy Hills slide at Istralandia aqua park. This park can easily be reached from our campsites in Istria.
The Crazy Hills slide exists of six sliding hills. This makes it the perfect slide to race against your family. Try this exciting family slide when you go on holiday in Istria.
(Source: Istralandia.hr)
5. The Freefall slide at Istralandia
Besides the Crazy Hills side, you should also try out the Freefall slide at Aqua park Istralandia. This slide has a height of 26 meters and is very steep. You will be left with an adrenaline rush after you have gone down the slide with an immensely high speed. Do you dare to try out the Freefall?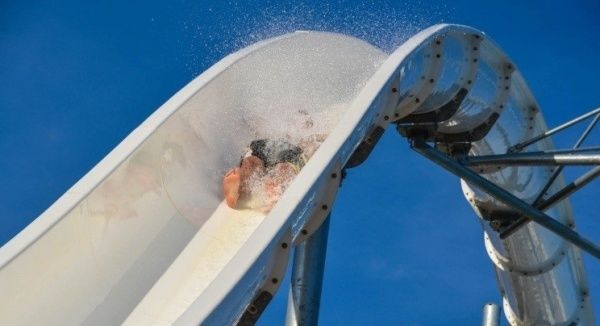 (Source: Istralandia.hr)
6. The Black Hole slide at Caneva World
A real must do. You can find this spectacular slide at aqua park Caneva World. You will go down this slide on a tube. The slide is pitch black so you will have no idea which way you are going and you will be surprised by many light effects.
(Source: Canevaworld.it)
7. The Speed Riul slide at Aquafan
During a holiday at one of our campsites near the south of the Adriatic Coast you cannot miss out on a visit to aqua park Aquafan. Earlier in this blogpost we have already shown you the Extreme River slide which you can also find at Aquafan.

Besides the Extreme River, the Speed Riul is also highly recommended. You go down in pairs and sit in a tube. It starts with a descent down a long enclosed tunnel and then you will end up going down a funnel. After a few spins around the funnel your speed will decrease and you will go down a hole in the middle and continue to the end of the slide.
(Source: Aquafan.it)
8. The Rapid Raceslide at PortAventura
When you go on holiday by the Costa Brava, then you should real pay a visit to PortAventura. You can go down the Rapid Raceslide with six people at the same time. You go done on a matt which ensures that you keep going faster and faster. Who will be the one to win the race?
(Source: Aquafan.it)
Are you curious about all the campsites with cool slides (nearby) that we have to offer? Here you will find your ideal holiday destination!