Go camping in May
Are you already looking forward to packing your things and heading to the campsite in bloom month May? You can with Roan. During the May holidays and around Ascension, various campsites are already open for a wonderful stay. Choose a camping holiday in Italy, France, Croatia or Spain, for example. So you can enjoy summer temperatures in May and the ultimate holiday feeling.
Other great campsites for you
Stays in Italy in May
In Italy, several Roan campsites are already open in the month of May in different regions. Most opened campsites in May in Italy are around Lake Garda or around the Adriatic coast. In May, temperatures can already reach 25 degrees at Lake Garda and around 20 degrees at the Adriatic coast. Great for enjoying the first rays of summer sun. On Lake Garda, it is best to stay on the southern side for the most sunshine. Here you will find several great campsites with extensive swimming pools and even water slides, such as Camping Park Delle Rose or Camping Bella Italia. On the Adriatic coast you will find several campsites from which you can walk straight onto the long beach, such as Camping Marina di Venezia and Camping Pra'delle Torri.
Camping holidays in France in May
Do you want to enjoy the sunshine on a campsite in France before the summer crowds arrive? You can if you choose to stay at a Roan campsite. Most campsites in France are already open in May.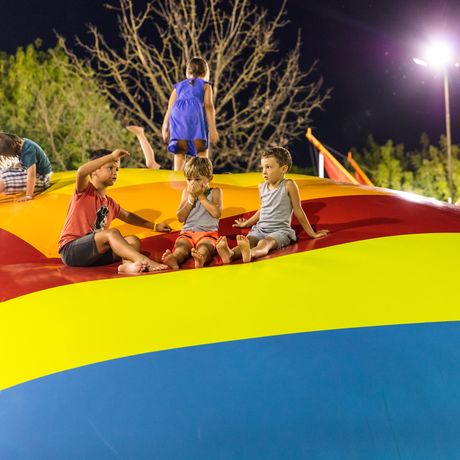 Especially in the Languedoc-Roussillon region of southern France, you will find many campsites already open in this month. In fact, it can reach 22 degrees here as early as May. Discover vineyards, sandy beaches and quaint villages here. Camping Domaine de la Yole in this region even has its own vineyards, but the other campsites in this area are also beautifully located.
Discover Spain in May
Prefer to go to Spain in May? Roan offers several wonderful campsites there too. In May, campsites on the Costa Brava and Costa Dorada are already enjoying themselves to the full. Temperatures can reach 20 degrees in both places. In both regions you will find campsites with lovely swimming pools, directly or close to the beach. Be sure to stroll along the boulevards that line the long sandy beaches. For example, choose Camping El Garrofer on the Costa Dorada or Camping Playa Brava on the Costa Brava.
Camping in Europe in May
In other European countries you can already enjoy the month of May. Various campsites in Croatia, for example, are already open in May. Here you can enjoy temperatures of up to 21 degrees in various regions. Prefer to go to Austria or Luxembourg to enjoy a camping holiday? You can also stay at a Roan campsite in these countries in May. Of course, you can also simply spend the May holiday in the Netherlands at one of the top campsites in various provinces.
Book your campsite in May now
Would you like to go on a camping holiday in May? This is possible at various Roan campsites at home and abroad. If you stay at a Roan campsite, you can count on the highest service and best quality. Moreover, Roan staff are on hand at these campsites to help you have a fantastic time. So go camping in May and book your stay today.