Why Roan?
How nice that you found our website! We would like to tell you more about Roan, what makes Roan really unique and distinctive as a tour operator and why we think that a camping holiday with Roan will surpass all your expectations!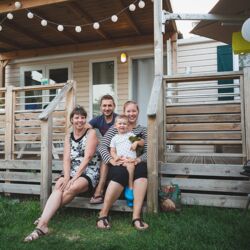 What a great organization!!!
The receiving at the campsite was really great! Very hospitable and friendly! The people from Roan on the campsite informed us well, were always willing to help and were not too intrusive! Absolutely super and definitely worth considering for next year!
1
Domaine de la Yole
France - Languedoc-Roussillon - Valras-Plage
Looking for a camping in France near a lovely wide sandy beach? Then camping Domaine de la Yole is a great choice. This large camping near Valras Plage in Languedoc-Roussillon has several beautiful swimming pools with various slides and from the camping you can walk directly onto the beautiful white
Several beautiful pools with various slides
Nice playground and great entertainment
Check out the campsite's own vineyards
Check out campsite
2
Bijela Uvala
Croatia - Istria - Poreč
Camping Bijela Uvala in Croatia is a luxury family camping in a forest region of Istria. The camping is located in beautiful surroundings with azure blue waters and islands off the coast. You can easily reach Poreč from Camping Bijela Uvala using the tourist train. There is also plenty to do at the
In total 3 pool complexes with children's pools
Cosy restaurants and bars at the campsite
Tourist train to the charming village of Porec
Check out campsite
3
Norcenni Girasole Club
Italy - Tuscany - Figline Valdarno
Just a stone's throw from Florence, in the heart of Tuscany, you will find family camping Norcenni Girasole Club. With two pool complexes, trampolines, mini-quads, horse riding, scooter hire and a climbing wall, among other things, you won't have a minute to get bored. Camping Norcenni Girasole is l
2 large swimming pool complexes with lagoon pool
Great restaurants and new bar 'Music & Fun'
Visit the cities of Siena, Pisa and Lucca
Check out campsite