A campsite with a slide
Can't your kids get enough of splashing around in the pool? And do they like sliding down high slides? Then of course you will want to book a campsite with slides for their holiday. On the Roan Luxury Camping Holidays website you can easily select pools and slides, so you can easily find a campsite that suits your needs. Are you going on holiday in the Netherlands this year? Or are you looking for a Mediterranean climate in Spain, France or Italy? Whatever destination you choose, at Roan you can spend your holidays at child-friendly campsites with entertainment for all ages.
Other great campsites for you
Campsite with waterslide in the Netherlands
Are you looking for a cosy campsite with a slide for a wonderful family holiday in the Netherlands? Then De Twee Bruggen campsite in Winterswijk will meet your holiday wishes. This 5-star campsite has a large swimming pool complex with no fewer than four long slides. There is also plenty of fun for the little ones in the children's pool with fun play equipment.
Would you like to spend your holiday in Burgundy Limburg? Then go for campsite De Schatberg in lively Sevenum. This campsite has a subtropical swimming paradise with an indoor and outdoor slide, rapids, water play equipment and its own sandy beach.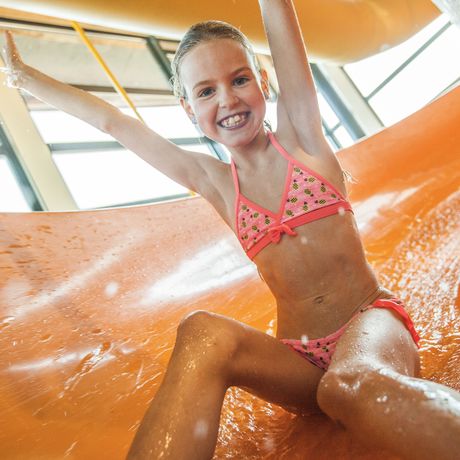 Campsite with waterslide in France, Spain or Italy?
Are you looking for a nice campsite with waterslide in France, Spain or Italy? We have selected a number of popular holiday destinations where you can enjoy a luxury camping holiday with your family. At campsite Domaine de la Yole, for example, you will enjoy a wonderful holiday in France between the vines of the Languedoc-Roussillon region. Besides a large pool complex and long slides, this friendly French campsite also has a playground.
Campsite with waterslide right by the sea
Is Spain your favourite holiday country and do you want to book a campsite with waterslide right by the sea? Then you will feel right at home at campsite Cala Gogo. This campsite is located on the sunny Costa Brava and has no fewer than 5 swimming pools with high and low slides. The azure blue sea with beautiful bays is within walking distance, where you can swim and snorkel.
Camping Pra'delle Torri in the small town of Caorle is the perfect destination if you are looking for a campsite with waterslides in Italy. Located on the Adriatic coast, this child-friendly campsite has a water park with the largest children's pool in Europe. The long slides and water play equipment ensure water fun for all ages.
Curious about our complete offer of campsites with a water slide? Then check out our extensive selection here.