Campsite Florence
The well-known city of Florence (or Firenze) is visited by thousands of Italian and foreign tourists every year, during their annual holiday or on a city trip. For those who love history and culture, Florence is one big open air museum. If you're after a sunny camping holiday in Florence, Roan is the place to be!
1 camping found
Norcenni Girasole Club
Italy - Central and Southern Italy - Tuscany - Figline Valdarno
2 large swimming pool complexes with lagoon pool

Great restaurants and new bar 'Music & Fun'

Visit the cities of Siena, Pisa and Lucca
Other great campsites for you
Campsite near Florence
Are you looking for a campsite near Florence? We are pretty certain that campsite Norcenni Girasole Club will exceed your expectations. On this big campsite in Figline Valdarno you'll have everything you need. You'll have a wonderful panoramic view of the surrounding hills from several locations on the campsite and the 2 big swimming pool areas are suitable for all ages. There are a treetop climbing trail, bungee-trampolines, excellent animation for all ages and no less than 3 restaurants. The sky is the limit on this campsite near Florence! The train will take you to the centre of Florence in an hour, but the city is easy to reach by car too.
Highlights during your holiday near Florence
The best known sights would have to be the famous bridge across the river Arno 'Ponte Vecchio', the palace and city hall 'Palazzo Vecchio' and the cathedral 'Santa Maria del Fiore di Firenze'. This impressive cathedral is probably better known as the dome or duomo of Florence. Would you care from some useful tips for your holiday to Florence? Take a look at our Italy page under the header 'more information'.
For a luxury camping holiday near Florence, you go with Roan!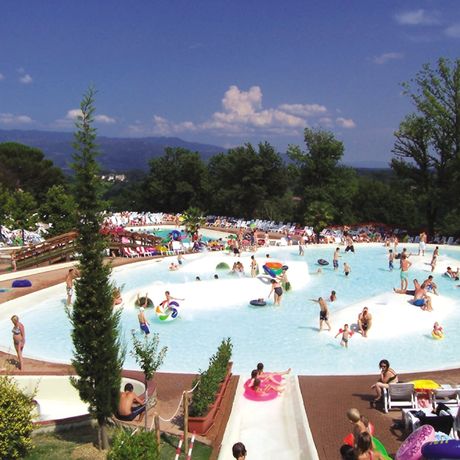 The weather in Florence
Florence has a moderate Mediterranean climate. The comfortable temperatures throughout the year are caused by the warm air coming from the Tyrrhenian Sea. The average temperature in May is about 20 degrees and in the summer months of July and August temperatures of above 30 degrees are no exception. Late summer/early autumn (September) it's still very pleasant with temperatures around 25 degrees. It's pretty safe to say that during your camping holiday in Florence the weather will be lovely and temperatures will be pleasant.
Glamping in Florence
'Glamping' is a trend these days. It means spending your holiday in a luxurious mobile home or (lodge-) tent with all the comforts of home. On campsite Norcenni Girasole Club you can spend your holidays in a luxury lodgetent Woody with its own private toilet and shower. Curious to see what other glamping possibilities we offer in Tuscany? Have a look at our Tuscany glamping page!