Glamping in the Netherlands
If you combine the popular luxury camping with a holiday in your own country, you come to Glamping in the Netherlands! Both are more popular than ever and we are happy to accommodate our guests.
Choose a luxury campsite in the Netherlands
The Netherlands has so much beauty to offer and many of us have never discovered it. We would like to offer you the opportunity to discover glamping in the Netherlands at one of our top campsites.
Our glamping sites in the Netherlands feature our most luxurious mobile homes: the Supreme Lounge, Premium Plus Lounge and Premium Lounge. All with three bedrooms, free air conditioning, satellite television, dishwasher and a lounge sofa on the veranda. Do you really want to go for the most luxurious mobile home of the moment? Then we recommend you book the Supreme Lounge mobile home! This mobile home certainly belongs to the top segment of glamping in the Netherlands! Among other things, you will have an XL grill and a covered wooden veranda partly with a slatted roof. And if that is not enough, linen, towels and final cleaning are included.
Our glamping tents in the Netherlands
Besides luxury glamping mobile homes, Roan also offers glamping tents in the Netherlands. This lodge tent Holiday is equipped with a very large living area, three bedrooms, a very complete inventory and a covered lounge decking with a double lounge sofa. The large living space is provided by the fixed awning that extends over the entire decking and can be opened almost entirely so that inside and outside become one!
We have placed this wonderful glamping accommodation at several luxury campsites in the Netherlands. You can book this at camping Klein Vink, De Schatberg and TerSpegelt. Glamping in Limburg and glamping in Brabant are therefore certainly among the possibilities. All these campsites have a nice swimming pool and organise many activities (during the Dutch school holidays and weekends). The many facilities will also ensure that no one gets bored.
And you know what they say: if the children have fun and play nicely with their new holiday friends, everyone will have an unforgettable holiday!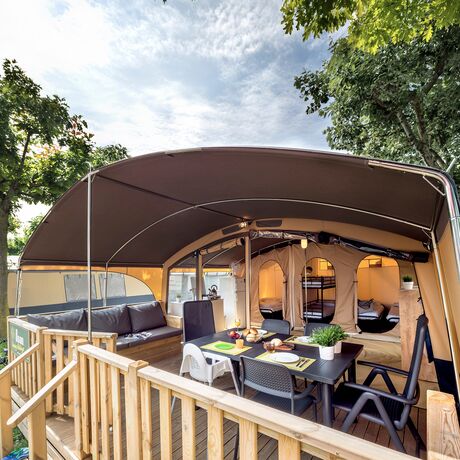 Glamping Friesland
You can also experience glamping in the Netherlands at our cosy camping 't Hop in Friesland. This child-friendly campsite is within walking distance of the Slotermeer and is very suitable for families with younger children. People who love cycling and walking will also find something to their liking here. The beautiful surroundings are perfect for long bicycle rides and lovely walks. Our Premium Plus Lounge glamping mobile homes are located on spacious car-free fields, centrally located at the campsite.
Our conclusion: glamping in the Netherlands offers every holidaymaker what he or she is looking for!