Have a great time on a campsite near Disneyland Paris
Visit the Disney theme parks in Paris from a campsite in the area. Meet your favourite Disney characters in Disneyland and fully emerge yourself in the various themed areas like Discoveryland, Frontierland and Adventureland. You'll find the greatest attractions for the whole family here. Get launched at top speed in Star Wars Hyperspace Mountain or enjoy a sensational boat trip through Pirates of the Caribbean.
La Croix du Vieux Pont
France - North of France - Picardy - Berny Rivière
Great swimming pool with long slides

Mobile homes located on beautiful grassy pitches

Located on Aisne River in stunning surroundings
(3 types available)
Sat 13 Jul - Sat 20 Jul
from 1,671.75
Other great campsites for you
Make sure to experience the parades and the spectacular evening show Disney Illuminations with fireworks, music and images of various famous Disney classics. It's the best way to fully emerge yourself in the magic of Disney, it'll be a trip you'll always remember.
You also don't want to miss the Walt Disney Studios Park. They've recently opened a new themed area: Marvel Avengers Campus, where you take a deep dive into the world of the Marvel super heroes and experience attractions with themes like Iron Man, Captain Marvel and Spider Man. In this park, you will also feast your eyes on The Worlds of Pixar with attractions based on the famous Toy Story, Finding Nemo, Cars and Ratatouille films. Moreover, this park also houses The Twilight Zone Tower of Terror, where you will experience a memorable free fall.

Stay near Disneyland Paris
At just over an hour's drive from Disneyland Paris you will find campsite La Croix du Vieux Pont. This campsite has a swimming pool area that's suitable for all ages. For instance it has a water playground but there are also some long water slides. Moreover, some of the pools can be covered in case of bad weather. There's even more fun to be had in the shallow laguna swimming lake.
The campsite offers plenty more facilities and the kids can play as much as they want in the many playgrounds doted around the campsite. Besides going to Disneyland Paris for the day, do also pay a visit to the city of Paris. The city of love has so many famous sights to see, you wouldn't want to miss it. For instance think about the Eiffel Tower or The Louvre.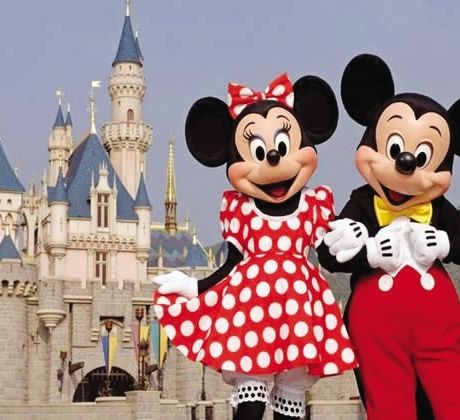 Book your campsite near Disneyland Paris with Roan now
Arrange your stay on the campsite near the magical Disneyland Paris in Francenow. When you book a campsite with Roan, we ensure service and quality. On all of our campsites you will meet our very own Roan representatives whose mission it is to make sure that you and your family have an amazing holiday! So don't wait any longer and book your campsite close to Disneyland Paris now.