Campsite Mediterranean Coast
If you're looking for a camping holiday on the Mediterranean Coast, Roan can deliver. Offering campsites on the water, near charming villages and cities and surrounded by beautiful nature. The big advantage: you can jump in the pool or the sea at any time! Book your campsite on the Mediterranean Coast now and experience an unforgettable holiday with the entire family.
Other great campsites for you
Campsite on the Mediterranean Coast in France
La vie est belle in the South of France. Just imagine : you sitting in the sun enjoying a glass of wine, whilst your kids are having fun in the campsite's swimming pool. You don't have to cook tonight because you've made reservations at that idyllic little restaurant in town. After dinner you'll go for ice cream on the boulevard: it really doesn't get much better than that.
Roan has a wide range of lovely family campsites on the Mediterranean Coast of France. Take for instance campsite Domaine des Naïades in Grimaud, only 900 metres from the beach in the Gulf of St. Tropez. This campsite has an Olympic sized pool with two 75 metre long slides and a heated pool for kids with a playset. It also has a playground and a disco, there are several sports fields, you can play badminton, workout in the gym or rent a bike.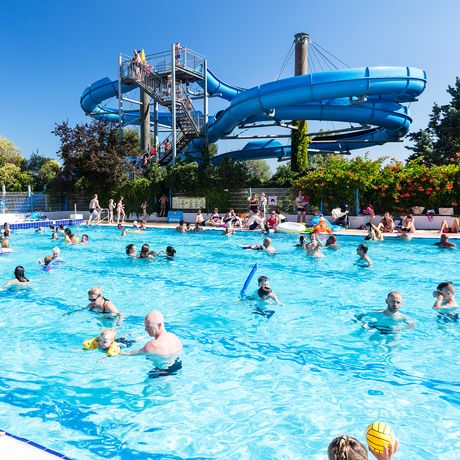 Campsite on the Mediterranean Coast in Spain
Enjoy a wonderful sunny holiday on the Spanish Costa. Strolling down the boulevard, playing games all night – and who's coming for paella tonight? Nature on the Spanish Mediterranean Coast is always picture perfect: the blue of the sea is a beautiful contrast against the mostly rocky hinterland.
In the heart of National Park 'Parc del Garraf', close to Barcelona, you will find campsite El Garrofer – an ideal spot for a holiday with younger kids. The many Pine trees on the campsite offer a lot of shade. It has a big pool, a restaurant and the sandy- and rocky beach on the Mediterranean Coast is just 1 kilometre away. In the mood for some culture and shopping? There's a bus service that takes you from the campsite to Barcelona.
Campsite on the Mediterranean Coast in Italy
The Italians know how to celebrate life and you can join in on the fun during a holiday on the Italian Mediterranean Coast. For example at Orbetello Camping Village located in the Southern part of Tuscany on the coast. The campsite has a child-friendly private sandy beach, several pools and a fun animation team.
Want to go out for the day? There are a golf track and an equestrian centre nearby. Or you could take the boat to the little island of Giglio with its charming villages, clifftops and white sandy beaches.
Chose a wonderful holiday on the Mediterranean Coast and book your stay with Roan Luxury Camping Holidays!